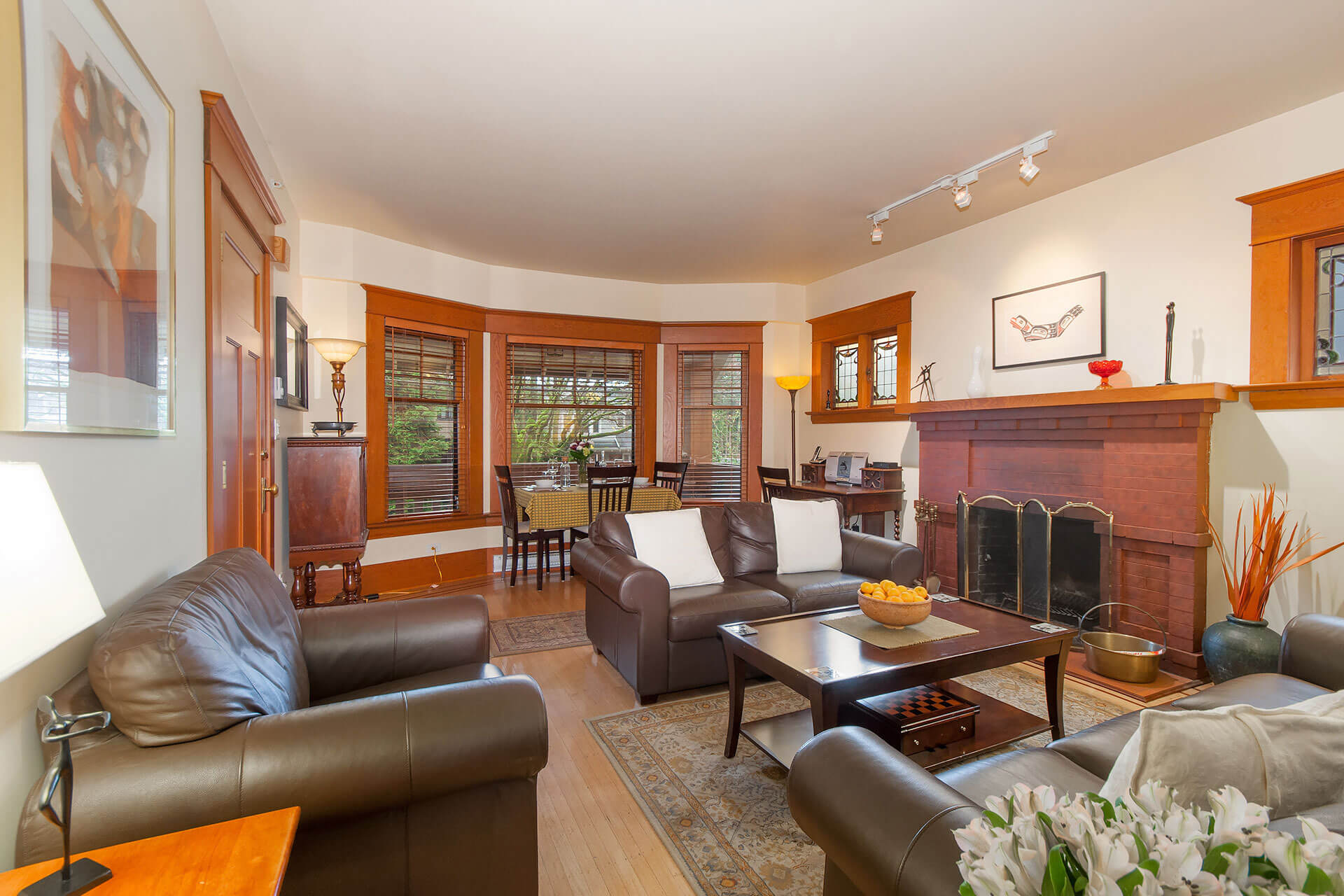 Suite 101 is a one-bedroom suite providing 780 sq. ft. of comfortable self-contained living space. This suite features hardwood floors & stained glass windows throughout, with leather couches, antique & contemporary furniture with tasteful art & decorations. The living room offers a three-piece couch set, flat screen HD TV, Teac stereo system, and a four-person dining table. The kitchen has custom cabinets, granite countertops, and modern appliances, including an electric range with range hood, large capacity refrigerator, dishwasher, and in-suite W/D. In addition, the kitchen features an extensive selection of professional quality amenities. The large bright bedroom has a queen-size Stearns & Foster luxury Sleepset with high-quality bedding & linens and pillow selection, Arts & Crafts bedroom dressers, bay window seating, and a flat-screen HD TV. There is a full bathroom with a granite countertop vanity, claw foot bathtub & shower. In addition, suite 101 features an in-suite apartment-sized washer & dryer and a full selection of laundry supplies.
Watch Video of Suite 101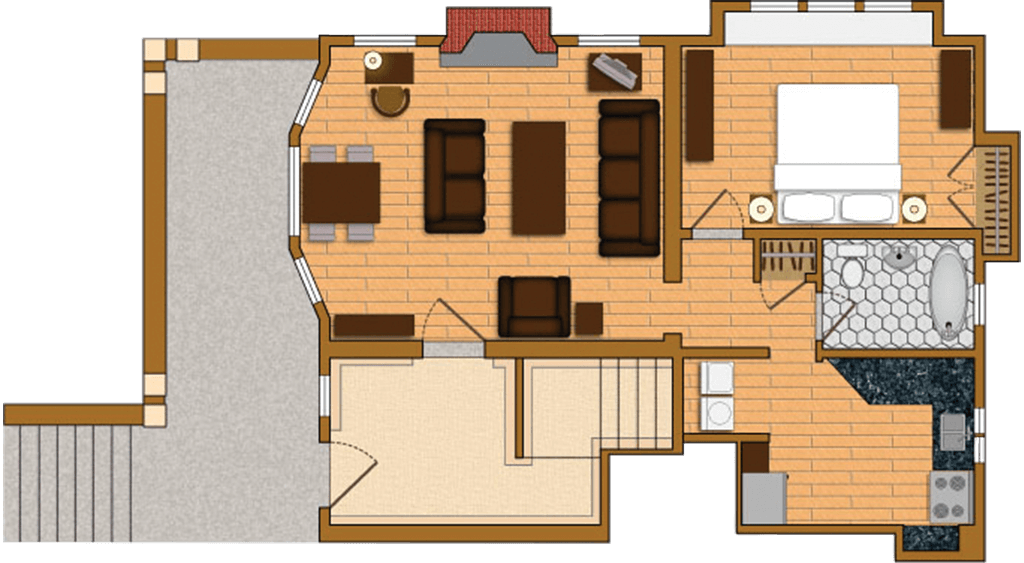 Rates
Low Season
- November 1 to December 15 & January 15 to March 31
Per Month - $3400.00
Holiday Season
- December 15 to January 15
Per Month - $6600.00
High Season
- April 1 to October 31
Per Month - $5980.00
* Monthly rates are based on four weeks – 28 nights, and any extra days will be prorated using our monthly rates.
** Rates based on single or double occupancy. Additional guest fees are $35 per person per night.
*** Longer-term discount: Reservations for two or more months will enjoy a 5% discount on the above rates
More Information
Located on the 1st floor of the house (not the ground floor), suite 101 is a one-bedroom apartment with a private outdoor area that looks over the quiet tree-lined street of West 6th Avenue and the character heritage homes of this beautiful Kitsilano neighborhood. The porch features a private bistro table and chairs for your personal use and enjoyment. Historically restored and upgraded to provide a balance of modern convenience and timeless heritage living.
The living room features a large bay window, the original 1912 hardwood floors, stained glass windows, and wood burning fireplace. Furniture includes:
Three-piece leather couch set.
An antique writing desk.
Select pieces of antique and contemporary furniture.
Modern conveniences include HDTV, DVD/IPOD/AM FM stereo system, and private telephone/voice mail service. In addition, there is a selection of fine art, decorations, and Indian carpets for added enjoyment and comfort.
The kitchen features custom fir wood cabinets, granite countertops, and modern appliances, including an electric stove, exterior vented range hood, full-sized refrigerator, dishwasher, microwave, and in-suite Washer/Dryer. Accessories include a toaster, coffee maker, coffee grinder, blender, stainless steel pots & pans, quality porcelain dishware, a wide assortment of cups, glasses & stemware, stainless cutlery, and a full selection of kitchen tools & chef knives. In addition, mixing bowls, plastic storage containers, cutting boards, and serving bowls & plates are included for those who want to entertain or enjoy extended stays.
The separate bedroom is large and bright with the original ceiling moldings and a bay window seating area with three opening windows. Queen-size Stearns & Foster luxury sleep set with a wrought iron bed frame. Bedding includes:
620 thread count white cotton bed linens.
Feather down & polyester duvet comforters.
A selection of down and quallofil pillows.
Arts & Crafts style dressers with a large bedroom closet and a hall closet provide extensive storage for all types of clothing. Modern conveniences include a flat screen LCD TV/DVD player, alarm clock, and thermostat-controlled heating for added comfort and convenience.
Day's stresses. The bathtub has been refinished and includes brand new chrome heritage tap & shower fixtures imported from Italy. There is a custom-made vanity with a granite countertop and porcelain sink—a selection of hotel-quality white cotton bath towels, hand towels and face clothes. In addition, we provide a hair dryer, beach towels, and a First Aid Kit for your convenience, enjoyment, and safety. The natural gas-fired on-demand water system ensures an endless supply of hot water.
The hall closet is perfect for hanging coats & jackets and any full-length garments you may have. In addition, it contains a clothes iron, ironing board, vacuum, Swiffer, floor mop, broom & dustpan.
On-staff professional cleaners ensure a very high level of cleanliness throughout the suite. Cleaning services range in price from $100 – $200 depending on the type and frequency of cleaning. Laundry service rates are available by request.
The suite features a selection of cleaning tools, accessories, & supplies.